Green Peas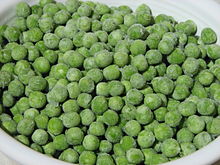 Green Peas in TCM:
Explore the properties of Green Peas according to Chinese
Nutrition and Traditional Chinese Medicine (TCM):


Temperature: neutral

Channels: LI, ST, SP, HT

Flavors: sweet
Tonifies: yin

Special Properties:
resolves water accumulations

In terms of Traditional Chinese Medicine (TCM) Green Peas are known for their ability to tonify yin. They also are known to help regulate water.

In general the ancient Chinese medical texts cite that they enter the Stomach, Spleen, Heart, and Large Intestine. Like all legumes listed in the beans category the flavor of green peas is sweet, and they are considered to be neutral in temperature.

According to Wikipedia green peas are starchy, but high in fiber, protein, vitamin A, vitamin B6, vitamin C, vitamin K, phosphorus, magnesium, copper, iron, zinc and lutein. Dry weight is about one-quarter protein and one-quarter sugar.