Da Huang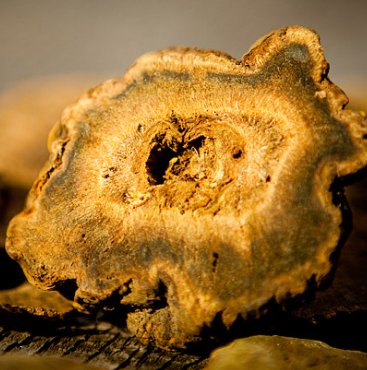 Da Huang in TCM:
Explore the properties of Da Huang according to Chinese
Nutrition and Traditional Chinese Medicine (TCM):
Factoids:
English Name: rhubarb root
Pharmacuetical Name: Radix et Rhizoma Rhei
Properties: bitter, cold
Temperature:
cold
Channels:
LI, ST, SP, HT, LV
Flavors:
bitter
Special Properties:

circulates blood, clears heat, clears damp, resolves water accumulations, eliminates toxins, stops bleeding
Actions / Indications:
Strongly purges accumulations ( yangming organ heat: thirst, constipation;excess heat in intestines, abdominal distension and pain; delerium; yellow tongue coat, full pulse)
Drains damp heat (acute, hot dysenteric disorder; damp heat jaundice; PUD; also excess edema, fluid retention)
Clears heat, drains fire, stops bleeding (fever, sore throat, red swollen painful eyes, headache, swollen gums, mouth and tongue ulcers with constipation; blood in stool due to hemorrhoids or heat in intestines; reckless movement of blood: hematemesis, epistaxis, uterine bleeding)
Invigorates blood; resolves stasis (amenorrhea, immobile abdominal masses, trauma, acute and chronic blood stasis)
Clears heat and toxicity (heat obstructing blood with toxicity: intestinal abcess, fire toxin sores, hot skin lesions, boils, carbuncles, burns: internally or topically administered)
Special Notes:
Da Huang has many contraindications because it is extremely cold and bitter.
Cooking da huang and gan cao together for a long time (> 30 minutes) will reduce purgative effects, while cooking short time will cause maximum purgation.
Pharmacologically Da Huang has a remarkable laxative effect, and has been shown effective to reduce LV damage in hepatitis.
Patients with acute pancreatitis were treated very effectively with a decoction of 30-60g da huang every 1 to 2 hours until symptoms returned to normal.
According to Dr. Zhang Ziao Ping a small amount of Da Huang is effective to treat hypertension and LV fire.
Contraindications:
(cc: pregnancy)
(cc: nursing mothers)
(cc: during menstruation)
(cc: exterior disorders)
(cc: SP and ST deficient cold)